NEW ARTISTS ARENA
New community is already open!!! Still in BETA but please go try
Before posting please watch the video instruction
here:
Make sure you follow the instruction otherwise your post will not show up.
Watch out for the up coming ART TOURNAMENT every two weeks with awesome PRIZE for the winner!!! Be prepare. ;-)

Tuesday, November 30, 2010
Posted by

chalian
at 7:17 PM
0 comments
Links to this post

Hey community, haven't posted anything here for AGES!! I'm really glad to see that we're growing so much, Really nice works here. Just wanted to encourage you beginners to keep following IdrawGirls.com as Xia has HELPED me a lot in my life. Hope you like this update, as much as I enjoyed working on these... =)

My Blog
My Portfolio Site

Digital paintings:

(Malta is quite known for the knights, and if there's one thing I'm proud of to be Maltese, that would be the history we have on the knights of St. John.)



Bernini Sculpture study:


From my sketchbook:



An Oil painting I did for a school assignment as a study after the great oil painter Ignat Ignatov:


All the best everyone.

Luca
Posted by

Luca
at 1:33 PM
4 comments
Links to this post

This is a digital painting I did of actress Jessica Lowndes. She's currently on the CW's 90210. I've never seen the show, but she's pretty hot. Good enough reason for me to paint her!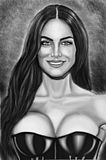 Posted by

Neocene
at 12:45 PM
1 comments
Links to this post

Peace!
* We have reached the member cap of blogspot and haven't found any solution jet. If you know any, let us know. *